Monday, September 12, 2022
Kaylee Williams (11BA) wanted to be a writer.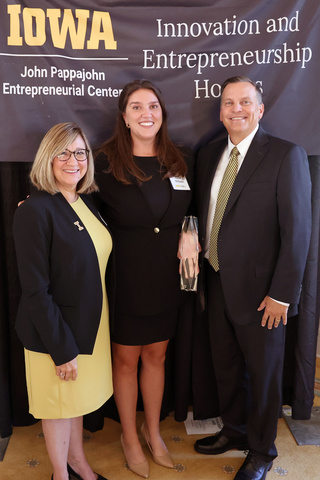 Armed with a degree in English and a minor in Economics, Williams left the University of Iowa in December 2011 with aspirations of writing for Silicon Prairie News (SPN), a website that brings tech and startup news to seven states in the Midwest. The editors at SPN didn't have a job for a fresh graduate like Williams, but they encouraged her to spend time working for a startup in the region to gain experience. Williams accepted a three-month internship with VolunteerLocal, a software startup in Des Moines, Iowa. A few weeks in, she was told there was potential to extend the internship if she was able to sell upgrades and annual subscriptions for the web app.
 
"I was actually able to bring myself on as a part-time, then full-time employee," Williams said. "I became the first paid employee at VolunteerLocal, I essentially created my own job."
 
She didn't stop there.
 
Williams teamed up with founder Brian Hemesath to create a pricing plan, a go-to-market strategy, and to scale VolunteerLocal. The early job description for Williams included sales, customer support, financial management, growth, and forecasting. You name it, she did it...early in the morning and late at night. Hustling to get customers, marketing, cold calls, demos.
 
In 2017, Williams was named president of the company. VolunteerLocal grew from a handful of users in Des Moines to a global portfolio of clients serving millions of volunteers, including the Sydney Gay & Lesbian Mardi Gras, the Marine Corps Marathon, Bonnaroo Music and Arts Festival, and the IRONMAN Triathlon Series. Williams stepped down from her position in 2021 and today, she serves as a shareholder and strategic advisor to the company.
 
"It has been a cool transition for me. It's more hands-off," Williams said. "You do something for so long, it's life-changing to step away. The company needed new perspective and new leadership. It was the right time for VolunteerLocal to continue growing beyond my vision for it."
 
Williams joined Roboflow, a venture-backed startup in Des Moines, where she played an integral role in establishing the company's revenue operations and first year book of business. Roboflow went on to raise a $20M Series A round of financing.
 
"I was a little burned out going so hard for so long with VolunteerLocal, then jumping right back into an early-stage startup like Roboflow," Williams said. "After they closed the round, I realized I needed a break."
 
She took a year-long hiatus. Williams hiked part of the Appalachian Trail, traveled abroad, spent time with family and friends, and practiced her guitar.
On Aug. 15, she began a new chapter as the investment director of a $30 million venture capital fund. She will oversee investments made into early-stage startups in Iowa. 
 
"There are countless individuals who provided mentorship and support throughout my journey," Williams said. "It's now my turn to give back. I'll always bet on entrepreneurs."

A native of Cedar Falls, Williams was involved in many activities at the University of Iowa, including rowing on the University of Iowa women's rowing team and serving as the president of Burge Residence Hall. She was the campus affairs director for Associated Residence Halls (ARH), an economics tutor through the SWAT Program, and even worked part-time at Whitey's Ice Cream.
 
"Studying at Iowa was such a special time in my life," Williams said. "I never thought I would end up in tech, let alone venture capital — but I hope my story can inspire others. Let it be known, if an English major can build a globally recognized tech company, so can you."

Williams received the 2022 Young Alumni Entrepreneurial Leadership Award in the Innovation and Entrepreneurship Honors. The University of Iowa John Pappajohn Entrepreneurial Center recognized her Sept. 9 at Old Capitol Museum.