THURSDAY, SEPT. 21, 2023
5 P.M.
Pitch Ideas to Win Cash $$$
IdeaStorm is an entry level pitch competition across the University of Iowa's campus that encourages students to share their innovative ideas, all while familiarizing themselves with the pitching process. This event helps students share their new, never heard before ideas without the requirements of a business plan or proposal. 
Does your idea solve a problem in a unique way? With IdeaStorm, all University of Iowa students are invited to share their business idea in person in two minutes or less.  A panel of judges will watch the pitches and the top ideas will be awarded cash prizes to help take their idea to the next level.
Deadline to enter is Sept. 19, 2023.
• All University of Iowa students are eligible to participate
LOCATION:
BELL (322 N Clinton St)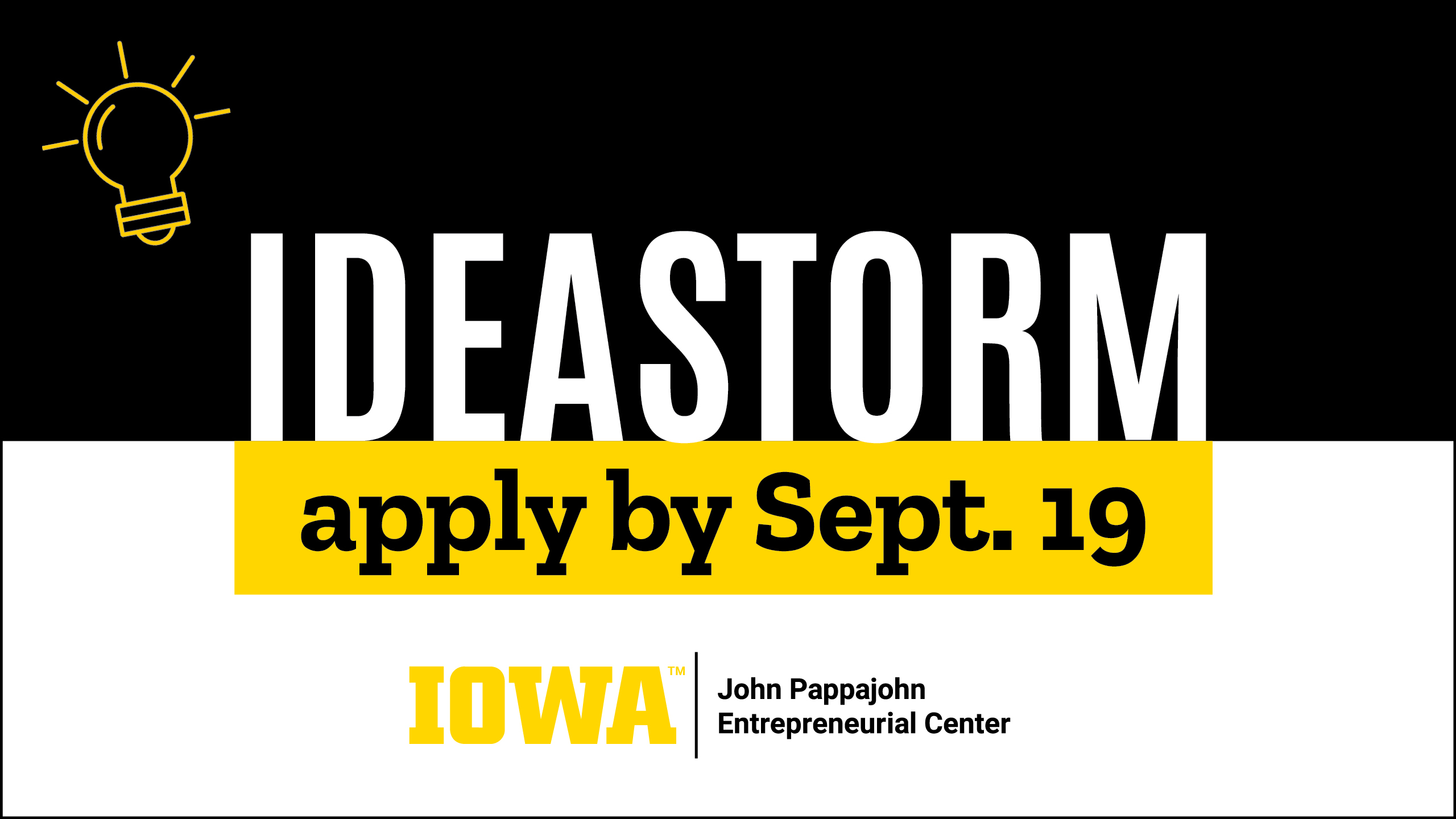 Here's how it works:
Students prepare a 1-2 minute pitch describing the problem they see and how they plan to solve it.

Participants select which category their idea best fits in:  Health Initiatives, Creative Concepts, Common Good or Consumer Solutions (descriptions below).

A panel of judges will watch the pitches and select the top finalists.

Winners

 will be announced at the event Feb. 15 and will receive cash prizes.
In addition to cash prizes awarded by the judges, the top ideas will also be eligible to win a People's Choice Award, voted on at the event.
IDEA CREATION
Want to participate but don't have an idea yet? This video walks you through exercises and other tips on how to come up with a business idea.
YOU'VE GOT THIS! LET YOUR IDEAS FLOW
The pitch must describe how their innovative idea solves a problem they see in the world.

IdeaStorm will have a new wrinkle beginning with the Fall 2023 event. In the past, topics were encouraged to fall under the categories of health initiative, common good, creative concepts, or consumer solutions. In an attempt to encourage more participation, ideas may now focus on a wider variety of topics, ranging from healthcare, creative mediums, sustainability, social services, everyday products, or any other area you feel needs your solution.
Dream big and go get 'em.
Cash will be awarded for the top finalists in each category based on scoring from panel of judges.
**Please note: Prizes will not be paid until the individual winner meets with a member of the Iowa JPEC team to discuss the potential of their idea and how Iowa JPEC can be of assistance to the student. Milestones may be required for larger prizes. Meetings will not take more than 15 minutes.   
Eligibility
IdeaStorm is open to every University of Iowa student and are entry level. No prior experience or preparation is needed. There are only two requirements you must meet in order to pitch at an IdeaStorm competition.
 
You must be a University of Iowa student currently enrolled in courses
Your idea must be new.
*Your idea cannot be a developed business that you have already been pursuing. If you have received revenue, funding, or professional support (including the Startup Incubator) for this specific idea it will not be eligible. If you are unsure if your idea is eligible or not, please contact jan-finlayson@uiowa.edu.
Benefits
Familiarize yourself with the process of a pitch competition
Win cash prizes to help bring your idea to life
Get connected with the Startup Incubator and our student innovation programs
Common Questions
Q: Will the university have any rights to my idea?
A: No. Your ideas belong to you. Neither Iowa JPEC nor the University of Iowa take any share in your idea and/or the implementation. Any funds awarded are intended to be seed money to move your idea forward on your own. Iowa JPEC will provide you with guidance and coaching as needed.

Q: What happens if I win money?
A: You will be contacted by a member of Iowa JPEC to discuss your idea and how we can assist you in moving it forward.  Iowa JPEC offers a variety of free resources and tools to help with your success through our Startup Incubator.
Q: If my business is too far along to pitch my idea at IdeaStorm, can I pitch a different idea?
A: Absolutely, we encourage you to pitch any NEW idea you may have.
Q: I've never done a pitch before - do you have any suggestions on a format to follow?
A: IdeaStorm is specifically designed for students that have no pitching experience – you will fit right in. You do not need a presentation or to prepare ahead of time.  You are not allowed to bring props - just state your idea and how you will solve the problem by following the pitch formula listed below.
"I heard about IdeaStorm from two students to my class. They shared about an opportunity to dream big, share visions, pitch ideas, build networks, and potentially win financing to help make my concept into a reality. All that at no cost! I was fascinated and found myself asking for more information. 
I wasn't convinced my ideas were worth sharing as they were half-baked at best. But I decided to show up and watch some of my peers pitch. With some prompting from the host, I decided to share my idea. At the end of the night, I was amazed to find that I had received first place and was soon making connections with students and staff. I then learned about John Pappajohn Entrepreneurial Center's (JPEC) Innovation Challenge, Game Changer, and the Startup Incubator - which I joined to further develop my idea. 
I can't stress enough how wonderful the opportunities available to students through the JPEC are. With the guidance of professional faculty, legal advisors, marketing experts, and creative co-founders, any prospective entrepreneur can't miss the opportunities available through JPEC. I'm excited to see what's next!"
Kristoff Poole, Entrepreneurial Management and Marketing 
How to Get Started
We asked some of our students to put together some example pitch videos.  Watch and see just how easy it is to participate!
First Steps
Think about your idea and problem.
Write and practice your pitch a couple of times.
Decide which IdeaStorm category your idea best fits into (Health Initiatives, Creative Concepts, Common Good, or Consumer Solutions).
Pitch Formula (What to talk about)
What's the problem you are trying to solve?
Give us a little story about it.
What is your solution to the problem?
Can you do it?  What do you need?
Tips for a Successful Pitch
Pitches cannot be longer than two minutes
• Make eye contact
• Be sure to hit all four points mentioned in the pitch formula
• Do not talk too fast. Relax and have fun!
THANK YOU TO OUR SPONSORS
Jay and Cindy Greenzweig and FORCE Communications | Health Initiatives
Michelle Bates and Ann Camblin | Common Good 
Nicole and Curtis Strait | Consumer Solutions
SPRING 2023 IDEASTORM WINNERS