ABOUT US
Iowa JPEC's Venture Mentoring Service uses the Team Mentoring methodology licensed from the MIT Venture Mentoring Service (MIT VMS) to link entrepreneurial ventures with experienced mentors. Entrepreneurs meet with a team of volunteer mentors in ongoing, confidential meetings. Mentors commit to avoiding conflict of interest and strict confidentiality. The MIT VMS model believes an entrepreneurial venture supported by an objective team of mentors has a greater chance of success.
This model is a perfect fit for the University of Iowa John Pappajohn Entrepreneurial Center (Iowa JPEC) as the hub for entrepreneurship education and outreach at the University of Iowa. Iowa JPEC is launching the Venturing Mentoring Service alongside the four other John Pappajohn Entrepreneurial Centers in Iowa thanks in part to a grant from the Ewing Marion Kauffman Foundation.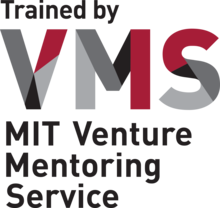 OUR VISION
Iowa JPEC's Venture Mentoring Service supports entrepreneurs by connecting experienced professionals and business leaders to serve as mentors for entrepreneurial venture groups. We develop entrepreneurs who have a connection to the University of Iowa and/or the John Pappajohn Entrepreneurial Center as they seek to launch and grow their business ventures. 
Our vision is to support entrepreneurs in the University of Iowa community, advance economic development in the state of Iowa and beyond, and continue Iowa JPEC's role as an innovative leader.
If you have questions, contact Jeralyn Westercamp.