A Lifetime of Learning and Giving
John Pappajohn, whose name graces both the building that is home to the Tippie College of Business and the entrepreneurship center that serves thousands of University of Iowa students, faculty, and researchers every year, died Saturday, April 22. He was 94.
"John Pappajohn's vision to create the Pappajohn Entrepreneurial Centers transformed entrepreneurship and innovation education across the five campuses and served as a catalyst for building a vibrant entrepreneurial ecosystem throughout Iowa. He will be remembered for his unmatched commitment to Iowa entrepreneurs, unparalleled positive mental attitude, unique ability to recognize and seize opportunities, and genuine kindness shown to all that knew him."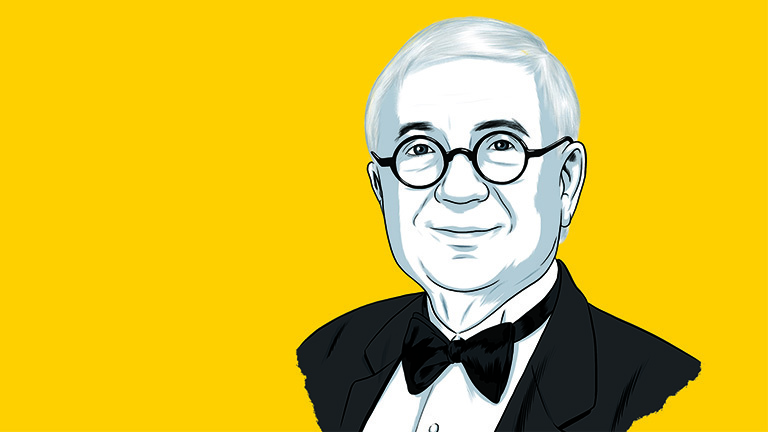 It was 1996 and Iowa needed to regain its entrepreneurial edge.
Once a state of small businesses, many did not survive the farm crisis and the economy was struggling as a result. John Pappajohn (BSC52) wanted to change that. An inveterate entrepreneur and venture capitalist, he knew the importance of small businesses to an economy. So, in 1996, he donated $1.5 million to establish the John Pappajohn Entrepreneurial Center at the University of Iowa to help revive the startup spirit, along with funding to create centers at four other universities and colleges in Iowa.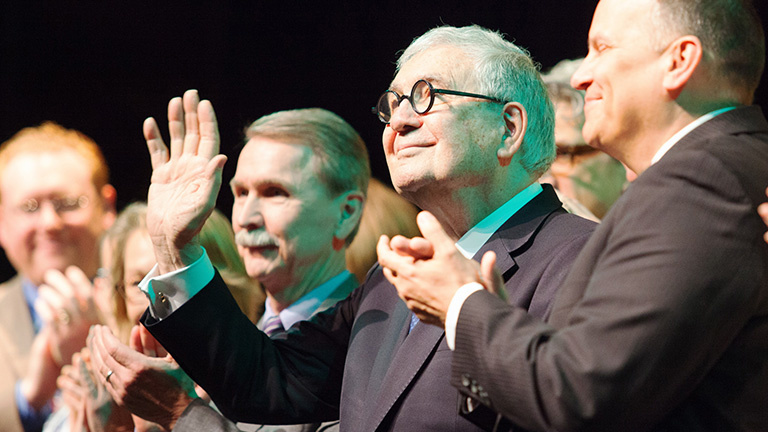 What more can be said or written about John Pappajohn, Iowa's most famous entrepreneur?
For the past 25 years, the thumbprint from the self-proclaimed workaholic has been on John Pappajohn Entrepreneurial Centers at North Iowa Area Community College, Iowa State University, Drake University, the University of Northern Iowa, and the University of Iowa.
A visionary philanthropist, Pappajohn was extremely generous to students across the state, particularly those at his alma mater, the University of Iowa.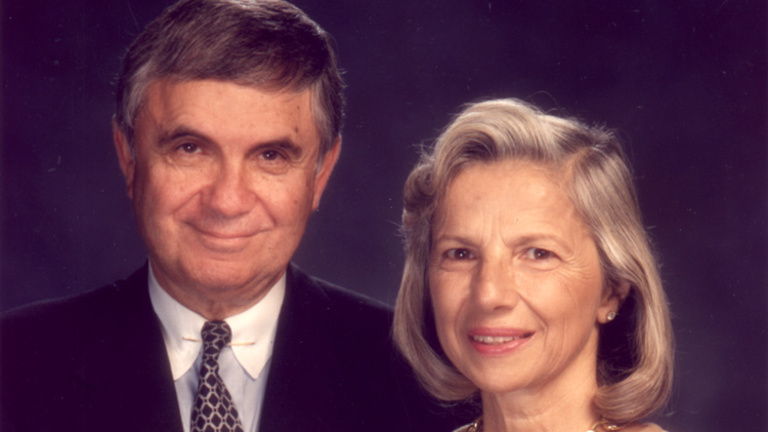 John Pappajohn immigrated from Greece at the age of nine months and he grew up in Mason City, Iowa. His father died when he was 16 years old and it changed his world. Pappajohn worked his way through college and alternated working and attending school with his brothers. It took him six years to get his degree. He graduated with a BSC degree in business from the University of Iowa in 1952. Pappajohn did not interview for a job because he wanted to own his own business. He established an insurance agency after graduation from college and subsequently organized and became Chairman of the Board of Guardsman Insurance Investors, a public insurance holding company that owned Guardsman Life.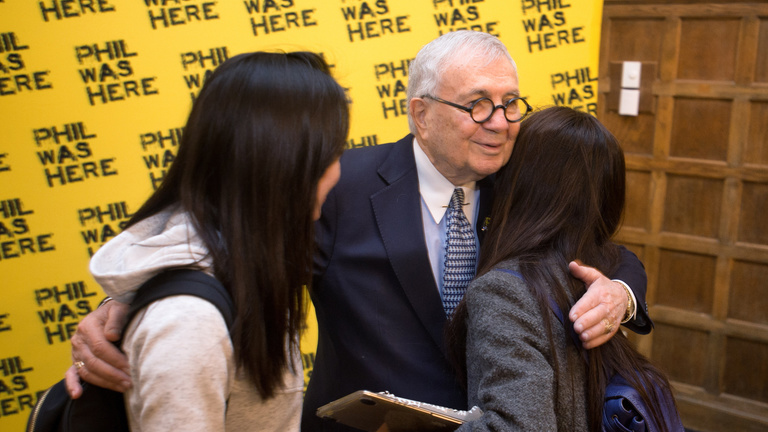 "Since I was a child I dreamed of things I wanted to do. I wanted to make money and give it to others. I dreamed of helping people."
With these words, the Greek American multi-millionaire John Pappajohn began his speech at the celebration of the 25th anniversary of the John Pappajohn Entrepreneurial Centers. He spoke about how his idea for the economic development of Iowa started.
Iowa was a state that was dying financially and its children were slowly drifting away as their future was largely limited to agricultural jobs.
His idea was that five colleges collaborate in order to better educate their students and enable them to start their own businesses. Pappajohn then invested in them, helping the young people to get started. Since then, more than 4,000 students have created more than 8,000 companies creating 17,000 jobs in the State of Iowa.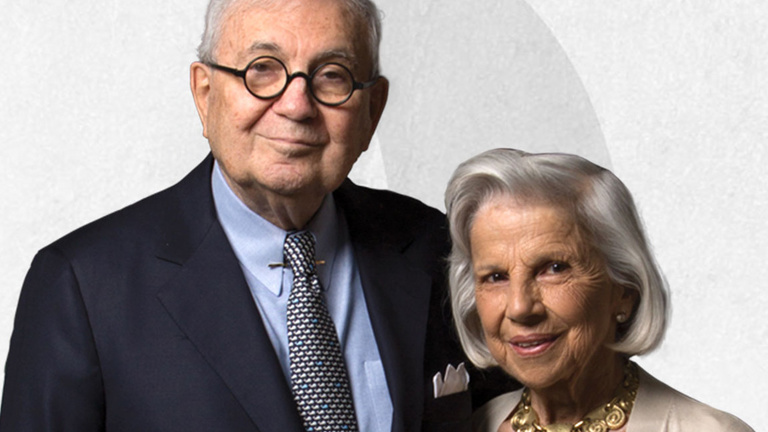 The world is a better place because of John and Mary Pappajohn.
His knack for business, her passion for art, and their mutual belief in giving back have brought some big ideas to life: a scientific "super quest" for a healthier society, a four-acre public sculpture garden in Des Moines, and a jump start for countless new companies. Such ideas started taking shape long before the two became a couple.
For John Pappajohn, it traced as far back as his kindergarten year in Mason City, Iowa. That's when his mother—a young Greek immigrant—enrolled in school, too. She did so to learn the language of her new country, but she also taught the future venture capitalist a lifelong lesson about the value of education.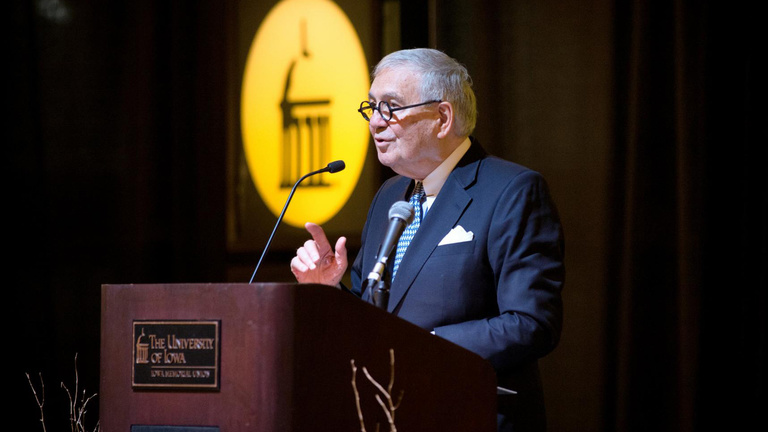 When John Pappajohn took the podium at the IMU Main Lounge last Friday, he was greeted with a raucous round of applause from the standing-room-only crowd, and he opened with a self-deprecating joke about Taylor Swift.
"Are you sure you're all in the right place? Taylor Swift played in Des Moines last night!" he quipped.
Then he clarified, "No, I don't own Papa John's pizza, and I don't have any free pizza coupons for you today—but I do have a surprise for you later on."
It's 9 a.m., and one of Iowa's most famous entrepreneurs has already been working for hours, making phone calls, reviewing charitable causes and running through potential multimillion-dollar deals.
John Pappajohn is a self-described workaholic who at age 88 still works seven days a week. He rises at 5 in the morning (it used to be 4 a.m.), gets to the office by 8 a.m. and will try to make it home by 6 p.m.
A colleague describes him as "an absolute maniac."
With years and years of experience in entrepreneurial endeavors, John Pappajohn is one of the most recognized and celebrated business leaders in and outside of the Midwest. He is also a passionate philanthropist and lover of fine arts. 
"I dreamed of helping people."
"It is not a tragedy to not achieve your dream, but it is a tragedy not to have a dream."
REMEMBERING JOHN PAPPAJOHN