Todd Kern spent 20 years in the corporate apparel business, including five with Abercrombie & Fitch. Now an educator at the Waterloo Career Center, Kern drove eight students to the most recent DesignDash on May 8 in Iowa City, where he was captivated by the day's activities.
"This feels like being in a design session for a multi-million-dollar apparel brand," Kern said. "This is exactly how it felt when we came up with a line of clothing."
The students from Waterloo were among 77 from 12 Iowa high schools who participated in the second DesignDash of the spring. Another event was held April 11 in Cedar Rapids.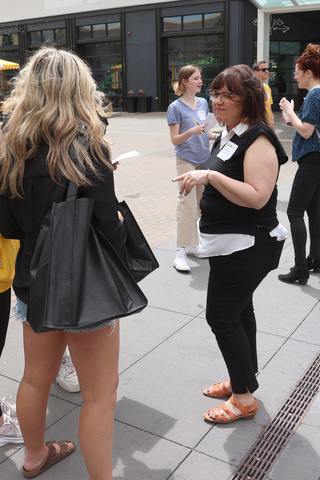 In a few hours Monday, Brandon Caspers, a senior from Lisbon High School, helped create a business called Green Life Gardens, an all-inclusive gardening balcony box with seeds, compost, fertilizer, planting planner, recipe, and gardening gloves. Caspers and his team interviewed 40 people and 18 were interested in the product.
"The No. 1 thing I learned is confidence," Caspers said. "I found myself in several situations where I had no idea what I was getting myself into. But I came into (DesignDash) with an open mind, the ability to figure out a plan, and work with my teammates."
A sophomore at Iowa City West High School, Neema Ash worked with three others to create Serenity, a stress-management app. For Ash, the highlight of the event was an opportunity to collaborate with students from other schools.
"It's fine to be by yourself and have your own opinion, but when you are with other people, your idea expands and grows," Ash said. "Working with others isn't just important socially, it helps you grow as well."
There were three DesignDash events held this academic year: one in the fall in Iowa City and two in the spring — one in Cedar Rapids and one in Iowa City. DesignDash is a one-day speedy startup simulation and part of the Jacobson Institute's BizInnovator Startup entrepreneurship program. DesignDash events are organized by Dawn Bowlus, director of the Jacobson Institute, in collaboration with local entities interested in innovation, entrepreneurship and creative problem solving. This year's partners included the Iowa EdTech Collaborative, Iowa City Area Development, Grant Wood Area Education Agency. The Jacobson Institute is part of the University of Iowa John Pappajohn Entrepreneurial Center (Iowa JPEC) — the lead sponsor for this program.
DesignDash provides high school students and educators an opportunity to work on authentic entrepreneurial startup ventures alongside real-life entrepreneurs and business executives. 
"It bridges the gap between schools and communities and engages participants in creative problem-solving, tackling challenges about which they care," Bowlus said. "DesignDash provides the full immersion experience kick-starting the process."
The first event was held April 19, 2022, and Bowlus envisions scaling DesignDash state-wide. Kern is one instructor who will return next year with a new batch of young entrepreneurs. 
"I saw students that I normally know as being quiet actually engaging and being quite animated," Kern said. "DesignDash allows them to align with something they feel passionate about, work with people they have never met before, and receive a real-life experience."
Iowa JPEC is the hub for entrepreneurship education and outreach at the University of Iowa. Jacobson Institute programs serve K-12 youth across Iowa and nationwide.