Thursday, October 20, 2022
Click HERE to RSVP for Golden Retriever Life
The dog days of autumn are coming to the University of Iowa on Nov. 9 and the star of the show is a 6-year-old golden retriever named Ellie. 
Her human father/owner/trainer Kevin Bubolz, an attractive, blue-eyed military veteran, will admit as much. Sure, Kevin pushes the record button on his video camera and posts the end product to social media, but it's the hijinks of Ellie and her 6-month-old sister Emma that are responsible for spreading smiles to millions of fans world-wide.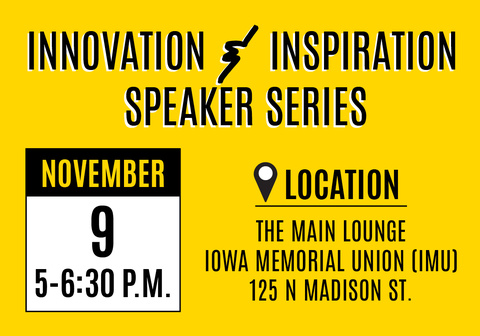 "Spreading smiles" is the mission of Golden Retriever Life; describing Golden Retriever Life is more difficult. In simple terms, it is a community of people who enjoy the canine content and tips on social media where the main attractions are Ellie and Emma. But there are three arms to Golden Retriever Life: social media, consulting, and philanthropy.
"The whole concept was never planned. Things happened and paths changed," Bubolz said.
Ellie, Emma, Kevin, and Katie, Kevin's wife of eight years, will be on hand for the Innovation and Inspiration Speaker Series on Nov. 9 in the Main Lounge of the Iowa Memorial Union. The event is co-sponsored by the University of Iowa John Pappajohn Entrepreneurial Center and the Iowa Veteran Education, Transition, and Support (IVETS) Veteran Innovation Series.
A native of central Wisconsin, Bubolz did his undergraduate studies at Marquette University before joining the Army as a helicopter pilot. He was deployed overseas in 2016 and joined a unit that included a black Labrador retriever named Zach. Zach joined Bubolz on helicopter missions and soon became a popular flying companion for soldiers.
"I would look back in a rearview mirror and see this little black Lab running around the helicopter and wagging his tail," Bubolz said. "The joy he brought was incredible."
After leaving the Army, Kevin and Katie wanted to do something similar to what Zach inspired, so enter Ellie, a golden retriever puppy. After a bit of self-study training that included reading books and watching movies, Kevin and Katie groomed Ellie to where she could easily spread smiles in hospitals, schools, and nursing homes.
Kevin looked to scale the business. While in the Army, he worked in marketing before attending the University of Minnesota for his MBA. Bubolz researched TikTok and started posting videos that included Ellie, which led to her celebrity status.
"I loved being able to connect and engage with people," Bubolz said. "I also saw it as an experiential learning marketing task. I could test something today and add a new thing tomorrow."
Golden Retriever Life grew to where Bubolz considered doing it fulltime. Then Microsoft called with a job offer he couldn't refuse. The family moved to Washington D.C., and for seven months, Kevin assumed a program management role on the Microsoft marketing team. Then…
"I just needed to dive in (to Golden Retriever Life)," Bubolz said. "I started doing this full time in February (of 2022) and it has been great."
A highlight for Bubolz includes an emotional visit to a patient who suffered a stroke. Ellie was interacting with the patient, but there was no interaction in return. Then the patient's wife broke into tears. Thinking Ellie did something wrong, Bubolz apologized.
"No, my husband hasn't done a single thing since his stroke and look at him now," said the patient's wife, pointing to a big smile on one side of her husband's face. "I know he's in there, I know it's him. I know there is still hope. 
Did Ellie's connection allow the patient to break through?
"Medically, you can't prove it," Bubolz said. "But little moments like that are cool to see how a dog can make an impact."
Another highlight involved a young girl who made frequent visits to see her father at a long-term care facility. The girl was obsessed with Ellie and carried one of Ellie's tattered trading cards as proof.
"Ellie has gotten her through these last three weeks," the girl's mother told Bubolz. "She prays for Ellie every night and won't set the card down."

Facebook: EllieGoldenLife, Instagram: elliegoldenlife, TikTok: elliegoldenlife, YouTube: elliegoldenlife