Thursday, September 29, 2022
Dancing was the easy part for Amanda Gustafson and Aunica Harvey. Both had done it for more than a decade before they met as students in a University of Iowa ballet class.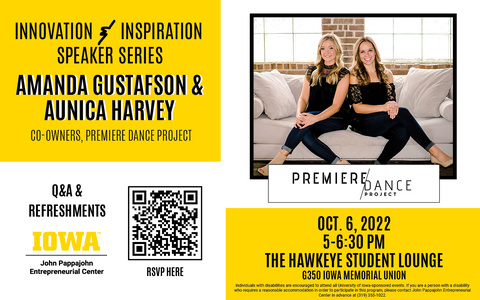 What didn't come as naturally was pursuing their dream of owning a dance studio once they removed their leotards and tutus. But after engaging in a pas de deux with the University of Iowa John Pappajohn Entrepreneurial Center (Iowa JPEC), the Premiere Dance Project in Waukee, Iowa, became reality.
Gustafson and Harvey participated in Founder's Club — a predecessor to the undergraduate Startup Incubator — where clinical associate professor Leslie Flynn put them on a path to success, and marketing specialist Jean Rude set them up with a brand and spiffy promotional materials.
"We also had weekly Friday lunch meetings where we got to talk to other people who were starting businesses," Gustafson said. "That was helpful to see what they were doing and how they were doing it."
"And to have those friendships," added Harvey. "I still follow a lot of them on Instagram or Facebook. It is fun to see how they are building their businesses as well."
Both women graduated from the University of Iowa in 2018 — Gustafson with a bachelor's degree in dance with an entrepreneurial management certificate, and Harvey with bachelor's degrees in dance and business administration. A week after commencement, the duo left Iowa City and opened their dance studio.
"If you sit back and think about it too long, you can talk yourself out of something great," Harvey said.
"We were blessed where we decided to end up (in Waukee)," Gustafson said. "We didn't have a huge understanding of what it was going to be when we signed our lease."
Gustafson and Harvey will headline the Innovation and Inspiration Speaker Series on Oct. 6 from 5-6:30 p.m. (CST) at the Hawkeye Room, G350 Iowa Memorial Union.
Harvey, a native of Corning, Iowa, began dancing at age 2; Gustafson, from Elk Horn, Iowa, started at age 5. Because of the time and energy Premiere Dance Project requires, they now run the business fulltime.
"We had known for a long time that our end goal was to open a dance studio," Gustafson said.
After forming a friendship in class, Gustafson approached Harvey with the idea of co-owning a dance studio. Harvey was originally a hard no. Gustafson's stubbornness wouldn't accept that answer, so the women agreed to meet over a cup of coffee (at Java House, another Iowa JPEC alumni business) where they listed pros and cons of jointly running a business. Within days, an official partnership was formed. Premiere Dance Project creates an environment where dancers can develop themselves individually, physically, and artistically. Its goal is to build a nurturing and exciting environment that manifests physical, emotional, cognitive, and creative development of its students. 
They built their business by diving in head first, but then having enough patience to take things one step at a time.
"You aren't going to walk into business ownership being the person who manages all the people and sits back and kicks their feet up on a desk," Gustafson said.
"There is so much to learn when you are opening a business and you are never going to have all the answers," Harvey said, "People can help you along the way, but the only way you can truly learn the things you need to know is by doing it."
Another positive for Premiere Dance Project is location, location, location. Originally, Gustafson and Harvey looked at buildings in Bondurant, but nothing was available. When a realtor suggested Waukee, they agreed. Their building on 870 NE Douglas Parkway is within walking distance of three elementary schools.
"There are so many kiddos around," Harvey said.
In May 2020, the U.S. Census Bureau named Waukee the fastest-growing (large) city in Iowa, based on population growth since 2010. Waukee has an estimated population of 24,089 and city officials project that its population could reach 35,000 by 2030. That has the making for a bunch of potential dancers.
"It has been fun over the last five years working our way to being the true CEOs of our business," Gustafson said. "We continue to work on our vision."
The public is invited to this free event, which is hosted by Iowa JPEC. Because of limited space, registration is required. You may register HERE.