Monday, September 19, 2022
A conversation between Mihiret Yilma and a fellow Ethiopian led Yilma to the United States and a connection with the University of Iowa John Pappajohn Center (Iowa JPEC).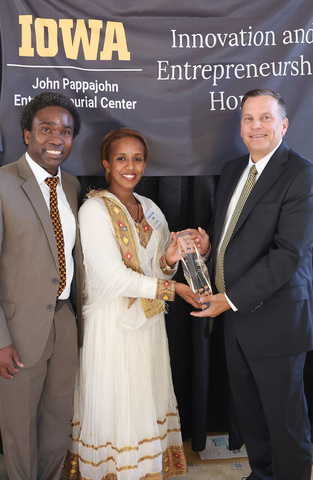 At some point after Iowa City's 2017 Mandela Washington Fellowship cohort ended, alumna Nolawit Shimelis Zewde of Addis Ababa, was showering praise about the program to Yilma. 
"She told me she learned a lot from the experience of the other leaders," Yilma said. "She also told me about venture school and leadership training. I said, OK, that should be for me, too. I will increase my skill and potential, especially on techniques of networking and business expansion. I know I would learn more from this program if I got the chance."
Yilma, who was 25 at the time, joined the 2019 Mandela Washington Fellowship where she enjoyed all the benefits she expected. Upon returning to Ethiopia after the Fellowship, Yilma expanded beyond being CEO of MYBM Solutions and co-founded Dynamo Robotics to include other disciplines of education, agriculture, and robotics, as well as continuing in healthcare technology. As CEO of MYBM Solutions and co-founder of Dynamo Robotics, Yilma oversees programs from delivering an innovative and artistic STEAM education curriculum to hundreds of young students in their local language, to mentorship service for specialized researchers, to introducing affordable solutions to community healthcare and tech problems.
Dynamo Robotics, which grew partly through business consulting from the Institute for International Business, is partnered with Jimma University and local private and public schools, further expanding her reach.
On Sept. 9, Yilma received the Institute for International Business International Entrepreneurship Impact award.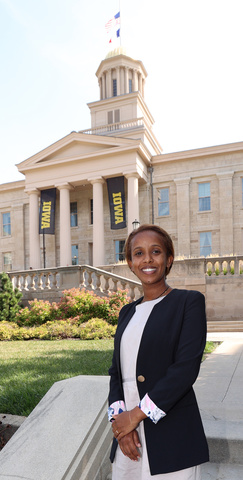 "It was an exciting moment of my life. It was big recognition and it means a lot to me," Yilma said. "A lot of young leaders have inspired me. It helps me work more and more. I appreciate the University of Iowa and Institute for International Business for the recognition considering my impact on the community as a leader."
Yilma earned a bachelor's degree in biomedical engineering and a master's degree in biomedical/medical engineering from Jimma University. She also earned a master's degree in bioengineering and biomedical engineering from Kenyatta University.
As for goals, Yilma wants to extend the reach of her companies.
"We want to operate in a better way and impact more people," she said.
After attending the Innovation and Entrepreneurship Honors event hosted by Iowa JPEC, Yilma remained in Iowa City for a week, then will spend three weeks in Washington D.C.
Through Yilma's vision and guidance, her efforts have impacted many throughout her community. She continues to excel in her work on providing STEAM education, healthcare technology, and agriculture solutions, while maintaining a focus on accessibility through creating local-language materials and local manufacture of products. Yilma is a dedicated researcher, innovator, and successful businesswoman who works to create a generational shift toward creating future scientists who can bring solutions to their future for Ethiopia, the continent of Africa, and the globe.
Yilma and her husband, Hundaol Girma, have a 23-month-old daughter, Evana.