Few understand the saying "out of adversity comes opportunity" better than Lucy Msukwa.
In September 2019, Msukwa, a participant in the University of Iowa cohort of the Mandela Washington Fellowship, began a maternity clinic for females ages 18-35 in her native Malawi.
Starting the venture was on Msukwa's mind since 1993 when she was in primary school. Her pregnant, diabetic mother was preparing to deliver a son. Because of the risks involved, Msukwa was trained on when and how to administer insulin, as well as other tricks like offering her mother brown sugar at opportune times. Even with training and precautions, the delivery did not go as planned.
"I lost my mom when she was giving birth to my brother," Msukwa said. "She was diabetic and the pregnancy made her have a lot of complications."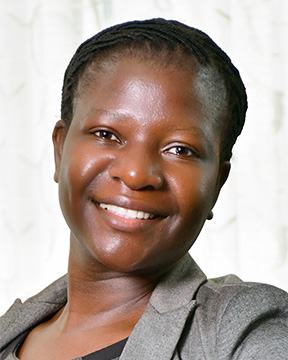 For the past 2 ½ years, Msukwa, who graduated from Kamuzu College of Nursing and is a nurse midwife practitioner, has been executive manager of Uchembere Wabwino Maternity (Self Motherhood Clinic) near Mzuzu, Malawi. The clinic provides sexual reproductive health services targeting early detection of complications and treatment. It focuses on promotive, preventive, and curative health care services.
"I want everybody to access health care, universal health coverage for all," Msukwa said. "In five years, we see ourselves growing to be a leading maternity clinic. We can do it so long as we put passion and effort in everything we do."
One of Msukwa's goals is to update with technology.
"Things change every day and we have to modify," she said.  
During a Venture School pitch June 29 in Iowa City, Msukwa was awarded $8,000 from the Code Family Foundation through the Institute for International Business and University of Iowa John Pappajohn Entrepreneurial Center. She said winning one of the top prizes was "an honor and privilege."
With the money, Msukwa will purchase three portable ultrasound machines that she hopes will bring impact and growth to her clinic.
"Being at Iowa has been very impactful to me as a leader," Msukwa said. "Being here has opened my mind. In every project I'm going to do back home, I will use the skills, experiences, and knowledge I have learned here. Every project I introduce, I will first go to my team and do customer discovery before providing the solution. I will also use the business canvas model."
Msukwa appreciates the networking and teamwork she experienced during the 6-week program in Iowa. Iowa's Mandela Washington Fellowship cohort consists of 24 people from 17 African countries. It will hold a farewell graduation July 13.
Msukwa, 35, is married to Alexious Ng'ambi, a dentist. They have two daughters: Abigail (13 years old) and Isabel (7).
Though Msukawa's story began with the heartbreaking death of her mother, the later chapters are filled with success and happiness. First, her brother survived the delivery and now works with farmers in Malawi. Second, Msukwa's clinic has reached nearly 5,000 people, offering outpatient services, prenatal visits, family planning, and free immunizations.
"I'm proud I'm making an impact in my community," said Msukwa, who then conveyed the best news.
"Since we started, we have never experienced a maternal death."