When Dustin Rhoades was growing up in South Dakota, his family enjoyed outdoor sports, mostly hunting and fishing. Now, because of devices he created for Kayden, his son with a disability, Rhoades puts smiles on the faces of the boys (and girls) of summer.
Rhoades founded Ability Tech, with two of its most successful devices being the Switch Hitter (batting apparatus) and the WHAC (throwing apparatus) that attach to wheelchairs and allow people with disabilities to more independently participate in baseball. WHAC stands for "Wanna Have a Catch," a line made famous in the Iowa-based baseball-themed movie Field of Dreams.
The original intention was to create the Switch Hitter solely for Kayden (who is now 15 years old), but once photos and videos hit social media, a monster was born.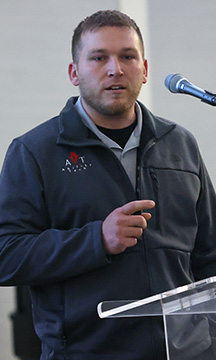 "Other special needs families and parents came out and said they wanted one and it snowballed into this business," Rhoades said. 
Ability Tech, with Rhoades giving the pitch, won the University of Iowa John Pappajohn Entrepreneurial Center Venture School Launch Day competition June 9 at The Graduate Hotel in Iowa City. The $10,000 first prize will be put to good use.
"To date this has been our biggest win," Rhoades said. "That will help us jumpstart and cover the costs on some of the things we need. Our main focus is that everything we invent, we manufacture, and we do ourselves. Our biggest focus will be using that (money) to help automate some of our manufacturing process to help us focus more resources in other aspects of the business rather than just manufacturing."
A disabled veteran who served in Operation Iraqi Freedom and Operation Enduring Freedom, Rhoades quit his fulltime job when the demands of Ability Tech increased. The basement of the family's home in Sioux City, Iowa, is devoted completely to the business, with a small garage used for manufacturing sitting three hours away in South Dakota.    
That cross-border situation is what Rhoades hopes to modify in the coming year.
"By this time next year our goal is to bring our manufacturing to Sioux City," Rhoades said.
Ability Tech is more than the Switch Hitter and WHAC. There are eight smaller projects and Rhoades expects to complete two large projects every year. Several non-sports undertakings are already in place.
Rhoades benefitted most from Venture School when it came to customer discovery. Originally, he viewed children with disabilities as his target audience, when in fact, it is their parents. He also gained valuable knowledge about the Business Model Canvas. 
"Venture School helped me hone in on who my customers really were which allowed me to switch my focus for advertising," Rhoades said. "(The Business Model Canvas) helped us structure things. Now we have implemented that with all new projects; we are going to sit down and go through that Business Model Canvas for each project so we know exactly what we need to do."
While customer discovery was one of the most important things Rhoades learned through Venture School, customer feedback keeps him inspired. Customers can approach Rhoades and he will attempt to design devices tailored for their specific needs. If they are willing to give him the rights to the idea, he will make it available to them free.
Rhoades and his wife Shanna have four children: Kayden, Landyn (12 years old), Tynlie (7), and Emmalyn (6). They are currently fans of the Miracle League team Braves, that includes Kayden on its roster. The summer season ends June 18, but players return to the diamond in August to resume their split season.
When they reconvene, many of them will enjoy the game of baseball, thanks to products created by Ability Tech.