HYRD, an app that brings recently relocated adults together over common interests and group events to decrease loneliness, won the $1,000 first prize at University of Iowa John Pappajohn Entrepreneurial Center's (Iowa JPEC) Startup Games on March 6 at the Hilton Garden Inn Iowa City Downtown University.
Team members are (with major in parenthesis) Amelia Balk (economics and political science), Michael Fisher (enterprise leadership), Joe Marino (creative writing and publishing), and Sophia Rupert (marketing, entrepreneurial management).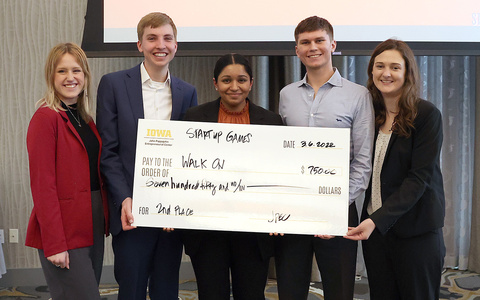 From 40 students who started March 4, 30 ideas were pitched before 10 teams formed to develop 10 potential business opportunities. At final pitches Sunday, a total of $3,750 in prize money was awarded.
Earning the second-place $750 award was Walk-On, which applied modern technology to walkers to reduce falling occurrences. Team members are Jennifer Apitz (enterprise leadership), Ashley Davis (biomedical engineering), Jashan Gill (business management), Eric Jungers (enterprise leadership), and Eben Shelton (medical engineering).
Bridge Healthcare, a collaboration between Subin Erattakulangara (biomedical engineering) and Aravin Sivamurugan (biochemistry, economics), placed third and earned $500. Their business idea bridges the gap between physicians and cutting-edge technology.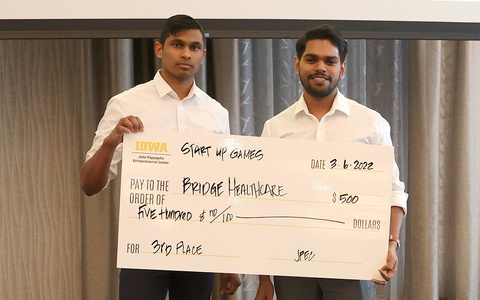 The panel of four judges presented Judge's Choice awards of $500 each to Frnsih and How Do I? Frnsih helps families get rid of the hassle of college moving by renting room furnishings. Team members are Aaron Fink (marketing), Henry Gramstrup (enterprise leadership), Brandon Lesmeister (business economics), and Kobi Terronez (entrepreneurial management). How Do I? is an app/website for recently independent adults to improve their financial literacy and success. Team members are Alex Asare (computer science, mathematics), Brian Sadowitz (computer science), Blake Thorson (computer science), and Conrad Toms (biochemistry).
A $500 People's Choice award went to the Ampex team of Connor Baggot (computer science, pre-business), Tyler McNutt (cinematic arts, communications), Nick Poggemiller (management), Jake Robin (business analytics), and Colby Whitaker (enterprise leadership, computer science). Ampex aims to develop internal workers into higher-level employees.
The students planned for their businesses Friday, spent Saturday assigning roles, doing research, customer discovery, and meeting with any of the 12 business coaches on hand to assist. By Sunday morning, teams had a four-minute pitch in place with slides and other visuals. These students represented more than 23 different academic majors, making this competition an invaluable experience for team building, discipline, and innovation. Teams pitched live in front of four judges.