ECR LOGIC
I-CORPS INNOVATION WORKSHOP
Through the I-Corps Innovation Workshop, this UI Office of the State Archaeologist team reinvented the digital aspects of archaeology.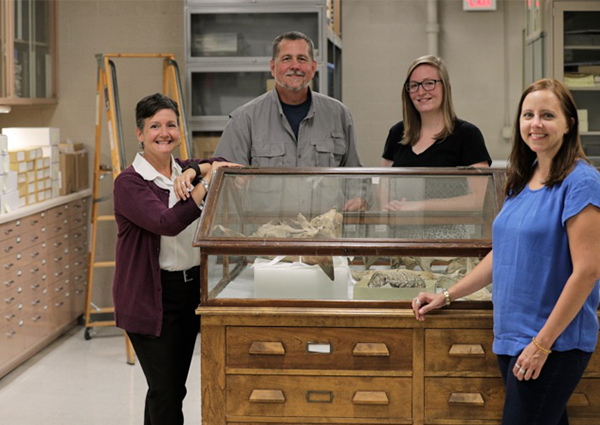 Piecing together the puzzle
Archaeology is the study of the human past. The profession often involves the excavation of sites and the analysis of artifacts. Entrepreneurial employees at the University of Iowa are invigorating archaeology and other professions with the creation of ECR Logic, a business that aims to make fieldwork easier for people around the world.
John Doershuk and Mary De La Garza, both employees of the University of Iowa Office of the State Archaeologist (OSA), were looking for a way to do something entrepreneurial to increase revenue of their department. OSA is a University of Iowa research center that develops, disseminates, and preserves knowledge of Iowa's human past. When the pair heard about the University of Iowa's Venture School I-Corps Innovation Workshop, they jumped at the chance to refine their ideas and discovered an opportunity.
I-Corps Innovation Workshop is a sister program to Iowa JPEC's Venture School. The 4-week program is specifically designed to provide University faculty and staff with the opportunity to develop marketable ideas and accelerate the startup process. At the conclusion of I-Corps Innovation Workshop, participants are encouraged to proceed with the Venture School program or at the national level with the NSF I-Corps Program.
Doershuk, State Archaeologist of Iowa and Director of OSA, and De La Garza, Director of Research Technology at OSA, entered the I-Corps Innovation Workshop together, but as they progressed they found a need to grow their team. I-Corps Innovation Workshop also encourages participants to involve students in entrepreneurship, so UI Anthropology student Rebekah Gansemer rounded out the group. After completing I-Corps Innovation Workshop, ECR Logic participated in UI's Venture School program and added Elizabeth Reetz, Director of Strategic Initiatives at OSA, to the team.
Doershuk says, "We saw I-Corps Innovation Workshop as an opportunity to explore the business world. We had the ideas, but we needed to translate them into a realistic action plan."
Non-traditional entrepreneurship
The team originally planned to digitize archaeology data sources to support field research, but I-Corps Innovation Workshop taught them that a more robust market involves field science mapping across many disciplines. The pivot process led them to create ECR Logic, LLC, which stands for Environmental and Cultural Research Logic. Their first product is Real-time DecisionPro, a multi-platform, mobile fieldwork application that gives environmental data collectors on the job site all of the mapping data they need to complete a project and communicate with their client. In short, Real-time DecisionPro streamlines fieldwork through mobile technology. While this kind of entrepreneurship may be unexpected, ECR Logic's accomplishments prove that innovation can happen in any field.
Iowa JPEC's I-Corps Innovation Workshop program gave ECR Logic the tools they needed to launch their business. The team's success will add a strong income stream to the University of Iowa and the OSA that does not currently exist. In addition to Venture School and I-Corps Innovation Workshop instructors and mentors, the team has also largely been helped by Paul Dymerski, Director of UI Ventures, and Emily Bong, UI Ventures Technology and Startup Consultant, who have helped transition the business from a Faculty Innovators team to a real-world startup.
When asked what the founders like most about the business, Reetz explains, "We enjoy the customer discovery portion of this work, which involves communicating with archaeologists and other scientists from across the world." Despite the struggles that come with starting a business, the team finds it all worthwhile. "At this point, it is a major challenge for us to find time to pursue startup activities and complete our day jobs, but we are making progress," Reetz adds.
With a well-rounded team, I-Corps Innovation Workshop experience, and UI Ventures support, ECR Logic is poised to become a leader in environmental data and field mapping services.
Protecting the past and innovating for the future
While the company works through the early stages of the startup process, they are honed in on big environmental and budgetary concerns that affect businesses all over the world. They anticipate that Real-time DecisionPro will significantly streamline fieldwork data collection and mapping, saving time and money for businesses completing environmental compliance work.
Doershuk says, "Streamlining this process is critical considering potential shifts in policies regarding environmental and historic preservation regulations that may drive environmental scientists to complete crucial work with less funding and support."
In order to reach this goal of simplifying decision-making by field scientists and other professionals, the 2017-2018 year will involve beta-testing their minimum viable product, a mobile application that services multiple field sciences. ECR Logic will position itself in the environmental market, offering contributions to the welfare of Iowa City, the state of Iowa, and the world.