About
Join the Women in Entrepreneurship team by joining us for one of our discussion circles or events. Our roundtable discussions include inspiring female speakers who share their life experiences and success stories.
The group builds a community amongst women, including students and professionals, and provides a platform to share advice and resources, and to gain access to new networks.
Topics previously covered include:
 
Work life balance
Female empowerment in life and in work
Being a female in a male dominated field
Tips for career advancement
Defeating your "inner critic"
Enhancing leadership skills
Transitioning from college to work life
Events include lunches with community members and the opportunity to attend the annual Iowa Women Lead Change (IWLC) ICR (Corridor) Conference. 
Please sign up to receive updates on our discussions and events.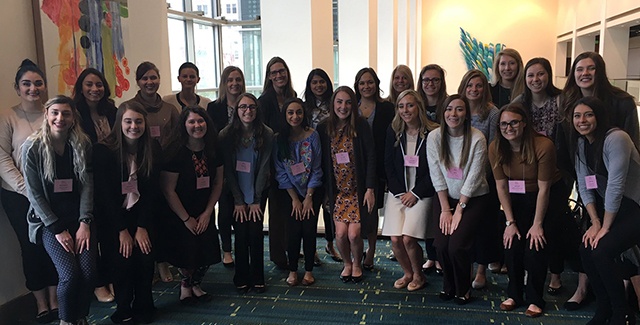 Participation
Any Startup Incubator member or Iowa JPEC student who identifies as a woman, as well as students in those groups who are allies of women in entrepreneurship, are welcome to participate.
Benefits
By joining this community, you will receive advice, support, and coaching from experienced alumni and successful entrepreneurs, business women, and fellow students. Students who have participated in the group have stated that they felt inspired, motivated, and empowered. 
Past participants have said...
"Every meeting with this group left me feeling inspired and empowered. I enjoyed listening to the guests' experiences and how they have advanced in their careers. Their stories introduced me to new career options that I hadn't previously considered. They also provided great life advice that I made sure to take note of."
JOIN US
Want to get connected with the Women in Entrepreneurship group? Contact us!

John Pappajohn Entrepreneurial Center
319-384-3262
iowajpec@uiowa.edu