KAYLA JENSEN
ENTREPRENEURSHIP INTERN
Kayla Jensen, a health sciences major, found that experiences offered by Iowa JPEC helped her stand out in a crowd as she pursued her dream career in medical device sales.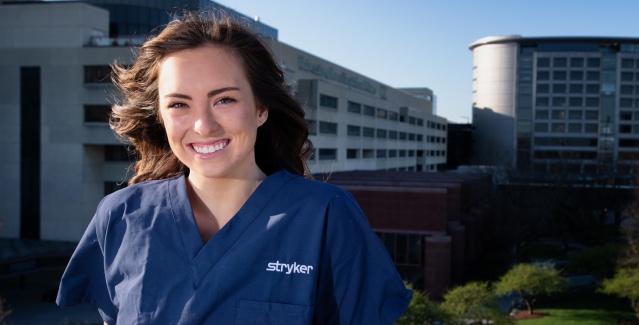 University of Iowa student Kayla Jensen started a job with her dream company a full semester before her graduation. She credits her success, in part, to academic and internship opportunities she found through Iowa JPEC.
Kayla, an Ankeny, Iowa, native, is working as an onsite specialist for Stryker, one of the world's leading medical technology companies, while completing coursework for her health and human physiology major and entrepreneurial management certificate. Entrepreneurial courses helped Kayla realize that she wanted to pursue a career in sales, and she believes the certificate helped set her apart from the crowd.
"I think I got this position because I chose the entrepreneurial management certificate," she said. "I think if I had just had the health and human physiology degree, I wouldn't have had that extra edge and that extra experience."
After realizing from her entrepreneurial classes that she wanted to pursue sales, Kayla also decided that she wanted to gain experience beyond the work she had done at UI Hospitals & Clinics. She found the perfect opportunity with Journimap, a cloud-based startup focused on patient experience, customer experience and social impact journey mapping work clients.
John Corrigan, founder and CEO of Journimap, hired Kayla and three other UI students last summer through Iowa JPEC's Iowa Innovation Associates program. The internship program provides a low-cost solution to businesses across the state who need assistance on special projects while providing real-world learning opportunities to UI students. John advertised the opportunity to graduate students, but Kayla took a chance and applied as an undergraduate.
"Her initiative, her gumption, her intellect, and her willingness and her desire to do something and succeed were very compelling to me," said John. Kayla came on board as a patient journey associate in May 2020, and continued working for John  on an as needed basis through the fall, after the program ended.
Kayla led two projects of her own and co-led a project with John, focusing on diabetes and burnout, body image changes in student athletes during COVID, and the patient experience with the transition to telehealth during the pandemic. The projects provided Kayla the opportunity to meet with representatives from the FDA, Pfizer, and Biogen. Overall, the internship provided growth opportunities for both Kayla and John.
"I don't know if the interns realized it, but I learned an awful lot from them," John said. "I think we all learned from each other because we would talk about what the projects were about and the different challenges that were going on."
Although COVID-19 moved the internship to a virtual setting, John used his previous leadership experience as vice president of customer experience for ACT, Inc. to help build a strong team and tailor each intern's experience. Kayla found the biggest benefit of the experience to be getting to know John and his wife, Melissa.
"I saw John and Melissa reach out to so many people, and it really taught me that if you want to get things done and go places fast, you have to reach out and expand your network," said Kayla. Melissa put Kayla in contact with Biogen liaison CoraLynn Trewet. Kayla met with CoraLynn, who helped edit her resume, answered questions, and provided insight into medical sales and all the benefits and risks of the career path.
"Without the certificate, and without the skills I built from the internship, I don't think I would have gotten the fulltime job, honestly."
Kayla, who will graduate in May, is looking forward to continuing to grow in her role at Stryker, eventually moving into sales, management or recruiting. And of course, she's looking forward to meeting John and Melissa face to face.