JOHN PAPPAJOHN
ENTREPRENEUR, PHILANTHROPIST
John and Mary Pappajohn graciously chose to support Iowa's entrepreneurial ecosystem in a big way. In 1996, their philanthropic efforts funded the creation of five entrepreneurial centers throughout the state.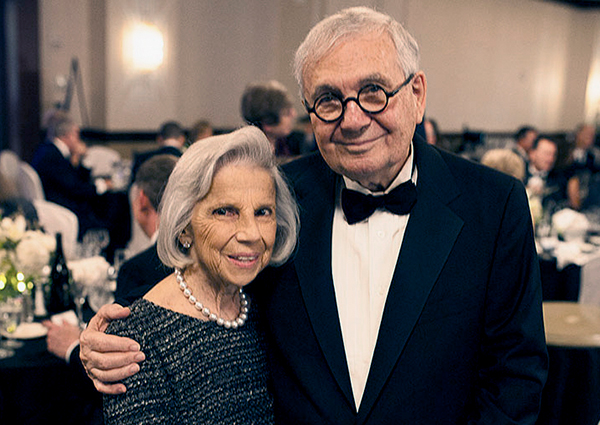 BACKGROUND
John Pappajohn is nearly 90, but his entrepreneurial spirit is as strong as ever. Pappajohn and his wife Mary are the philanthropists behind the creation of five entrepreneurial centers throughout the state of Iowa in the 90s. Mr. Pappajohn became a successful entrepreneur through hard work in investments and banking, and he has not forgotten his roots.
While John Pappajohn now has the resources to back his generous philanthropic efforts, this was not always the case. Pappajohn was born in Greece and at just nine months old, his mother brought him to the United States to join his father, who was a U.S. citizen. Growing up in Mason City, Pappajohn struggled in kindergarten because he spoke limited English and occasionally missed school to sell scrap to help support his family.
Pappajohn's greatest learning moments occurred in his father's grocery store, where he could earn 10 cents a day by stocking shelves and performing other odds and ends around the store. Pappajohn's father opened the grocery store in the early 1930s, just as the Great Depression set in for many Midwestern families. His father provided for families in the community during those pressing times, often allowing them to purchase on credit that he knew they wouldn't be able to repay. The lessons that Pappajohn learned at the grocery store guided his eventual business career.
He says, "During the Depression, you had to hustle or you couldn't earn money. I began to look for opportunities early and began saving money."
Pappajohn's first side gig? Rummaging through the junk yard for scrap metal to sell. "I became a scrap junk dealer. The junk yard was one block from our house. The man there – Harry Wolf – became a friend and a mentor; I would sell him something every day," Pappajohn says. "I'd pick up pennies I found on the street. I still do; habit I guess."
While Pappajohn was a student at the University of Iowa, his father passed away, making things even more difficult for his family. His job at Brady's Supermarket helped the family get by. He recalls the many hours he put in at the grocery store every morning before class, every noon hour and every Saturday. Although he was a Hawkeye football fan, he never made it to a game. His forty-hour work weeks paid off, though. It took him six years to earn his degree, but when Pappajohn graduated with a BSC from UI in 1952, he had $2,000 in his savings account.
Despite the life adversities he has faced, Pappajohn has always remained positive. In fact, he is a strong advocate of PMA – a positive mental attitude. He believes positivity attracts many more opportunities than negativity. Based on his success, he just might be right, although he readily admits that hard work is also an important part of the equation.
Pappajohn still puts in more than sixty hours at work each week. While Pappajohn still conducts business negotiations with investors in New York, he is most proud of the philanthropic efforts he directs in the state of Iowa.
THE PAPPAJOHN CENTERS
During the mid-90s, Pappajohn found himself in a position to give money to support the entrepreneurial ecosystem of Iowa, which was basically non-existent at the time. In 1996, he and his wife Mary established a $5 million fund to support new ideas and businesses. With this money, the five entrepreneurial centers in Iowa were established. In the twenty years that the centers have been open, they have supported 237,500 individuals, launched 6,123 businesses, and created 11,941 jobs. Thanks to John and Mary Pappajohn, the state of Iowa is now an entrepreneurial haven where innovators flock to test their ideas and launch their startups. The entrepreneurial ecosystem is thriving, just like John Pappajohn himself.