JAELYNN BURKAMPER
UI STUDENT
Innovation isn't just for business students. When she was looking to gain experience and insight into the world of business as it pertains to the arts, Jaelynn Burkamper found the Arts Entrepreneurship Certificate to be the perfect balance.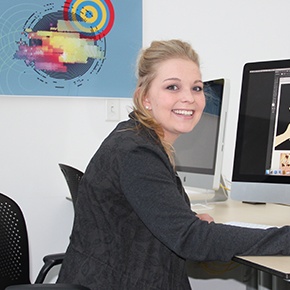 A College of Liberal Arts and Sciences student at the University of Iowa, Burkamper studies graphic design, theater, and entrepreneurship. What may seem like a rare combination to most, the multidisciplinary focus gives Burkamper the perfect palette to reach her academic and personal goals. The Arts Entrepreneurship certificate allows Burkamper to combine her love of the arts with the strategic, innovative lens of the entrepreneurial mindset.
Established in 2008, the certificate in Arts Entrepreneurship combines entrepreneurial coursework in accounting, marketing, and financial management with classes focused on arts management and leadership practices. This certificate is administered through a partnership between the John Pappajohn Entrepreneurial Center (Iowa JPEC), Division of Performing Arts, Department of Dance, School of Music, Department of Theatre Arts, School of Art & Art History, and the Department of Cinematic Arts, making it a truly campus-wide approach to entrepreneurship.
According to Burkamper, the program is exactly what she was looking for. "Half of the classes are geared towards teaching business skills and the other half use arts- and entertainment-specific examples to demonstrate course concepts and get messages across." This multidimensional approach to coursework has been extremely beneficial in helping Burkamper understand the intersection of the business and arts worlds, even landing her an elite internship with NBC Universal Brand Development.
"Since many of us in the program are not business majors, we tend to learn the material differently. The professors have been wonderful at explaining information in a way that is more relatable and applicable to arts students, especially David McGraw." McGraw is a senior lecturer in stage management and arts management for the Division of Performing Arts, Interdepartmental Studies, and Iowa JPEC. His position at the junction of these programs allows him to approach the certificate courses with a diverse collection of expertise to share with students.
After graduation, Burkamper intends to pursue a job in the competitive field of graphic design. "I feel as though I have a slight advantage over some of the competition because I have a greater understanding about the business components of many arts-based organizations and businesses. I would highly recommend any artist to work towards the certificate, even if they don't necessarily envision themselves with their own business down the road. This program has also been extremely helpful in preparing me to freelance in the future and knowing the logistics that go into that" she stated.