BRITANY FLOCKHART
INNOVATOR COMPETITION PAST PRIZE WINNER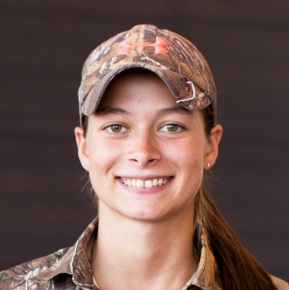 WINNING INNOVATOR COMPETITION IS PINNACLE OF STUDENT'S STEM INNOVATOR® EXPERIENCE

When Keokuk High School's Britany Flockhart was a rising senior, she was the Jacobson Institute's first-prize winner for the spring Innovator Competition.  Her entrepreneurial journey began in the classroom when she took an Engineering the Future course taught by STEM Innovator® Certified Instructor Courtney Giesel. 
This Keokuk high school course uses the Jacobson Institute's STEM Innovator® toolkit, teaching students how to harness innovation, problem solve, and collaborate.
"STEM Innovator® shows my students that entrepreneurship is within their reach," Giesel said.  
As a final project for the course, students submitted their ideas to the Jacobson Institute's Innovator Competition. Geisel wanted to have a final project that students could grow from and continue even after the course was over.  
Practice makes perfect
Flockhart, eager to create, quickly began brainstorming. Ultimately, she came up with the idea to create a tool that would help hunters to field-dress a deer, as hunting is a hobby she enjoys. After researching and creating a model product, she began preparing for the competition.
Flockhart learned the importance of preparation and "practiced, practiced, practiced" for her pitch.  She began to prepare her pitch by presenting her product to her classmates, Keokuk high school principal and Keokuk's City Council. 
"These opportunities prepared me to present in front of professionals and helped me gain confidence for the competition," Flockhart said.  
She was chosen from among 61 national applicants for the top 12 finalists. On competition day, Flockhart and the other teams competed online.
 "I fell in love with Britany's passion and her idea to create an invention that solved a problem in a hobby that she loves," Institute Director Dawn Bowlus said of Flockhart's winning pitch.
Flockhart received the first prize of $1,500 in seed capital. She was excited about her win.  Her favorite memory from the competition was the look on her teacher's face when she found out Flockhart took first place.
"It's a moment I'll remember forever," she said.
The journey continues
The impact of Flockhart's win is far-reaching. "Britany impacted the whole school. After they announced her win over the intercom, students started telling me that they wanted to take the STEM course and pitch ideas, too," Geisel said.
Looking ahead, Flockhart plans to use her cash prize to get a patent on her product and purchase materials to build prototypes for hunters to test in the field. Flockhart is also excited to become a student teacher for the Engineering the Future class this upcoming school year.  She looks forward to helping students have the life-changing opportunities and experiences that she had.