CREATING TOMORROW'S LEADERS
Develop the skills required for creating market-based opportunities in the arts, such as starting a performing arts business, promoting your work as an artist, leading arts-based ventures, and sustaining an arts-based career. The Division of Performing Arts in the College of Liberal Arts and Sciences has partnered with the University of Iowa John Pappajohn Entrepreneurial Center to offer this cross-discipline certificate. Students earning this certificate study the business of creating art, the entrepreneurial skills needed to promote one's work as an artist, and best practices for starting arts-based ventures. Learn to apply the best practices of the business world to advance your individual arts disciplines. Arts entrepreneurship connects the world of art with the marketplace.
This certificate is a cooperative effort between the:
Division of Performing Arts
Department of Dance
School of Music
Department of Theatre Arts
School of Art & Art History
Department of Cinematic Arts
John Pappajohn Entrepreneurial Center in the Tippie College of Business
*This certificate may not be combined with the Certificate in Entrepreneurial Management as the University of Iowa considers these programs to be overlapping certificates.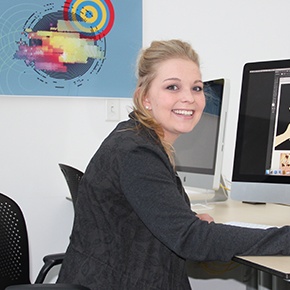 STUDENT SPOTLIGHT
Jaelynn Burkamper
Innovation isn't just for business students. When she was looking to gain experience and insight into the world of business as it pertains to the arts, Jaelynn Burkamper found the Arts Entrepreneurship Certificate to be the perfect balance.
"I feel as though I have a slight advantage over some of the competition because I have a greater understanding about the business components of many arts-based organizations and businesses."
NEXT STEPS
For more information, please contact the department listed below.

Molly Rechkemmer
Senior Academic Advisor
Division of Performing Arts, Department of Cinema
molly-rechkemmer@uiowa.edu